Comfortable alternative to CPAP or BiPAP
With the arrival of the NSA (No Snore Assure) Combo, (controlling your Nasal breathing) a CPAP device is no longer always the solution. After you learned you have sleep apnea or heavy snoring, you can first try the Combo as a natural solution.
​
(Sleep apnea is linked to Alzheimer's disease.
Source: healthline.com/health-news)
Your Satisfaction is our Success
Vital Health Inventions (VHI) has been specializing in the human respiratory for over 12 years. We developed the most comfortable solution against OSA when a CPAP or BI-PAP is not wanted or tolerated.
According to GSK (GlaxoSmithKline Pharmaceuticals, US), 61% of adults sleep with this breathing problem, causing Early morning headaches, a dry mouth, bad breath en more.
Sleep Apnea is a wrong habit, developed slowly over the years, but which can be reversed and prevented with the new NSA Combo. For example, Vital Health Products BV. is the inventor of the first "NasiVent nose-dilator" in 2003, and helped Millions of people with healthy nasal breathing, because aside from a healthy diet, and adequate exercise, it all starts with sufficient Oxygen to all our cells.
The NSA Combo exists from the newly developed safe "Magnetic Silicone LipRight" (120 nights) plus the NasalVent tube, (4 sizes skin color) which secures 100% nose breathing while we sleep. This makes a CPAP unnecessary, as comfortable and natural sleep is possible again. (Proven results).
Why NSA magnetic Combo and not the ordinary tapes?
No unconscious loss of mouth tape due to discomfort. (Secured permanent function).

No choking or claustrophobic feelings, (Safe for kids).

Opens the nostrils and allows nasal breathing.

No oral limitations, (Magnetic closure technique).

Skin-friendly silicone, even after weeks of use.

100% safe for breathing by mouth when needed, (For kids).

Durable and cheap over time as reusable items.

Use for Juniors and adults.

120 nights+ or 4 months use = $2,- A week.

Caution before you order: Does not support beards.
Today, with this Combo we prevent OSA/Sleep-apnea by maintaining the vacuum between the tongue and the palate, the natural way for healthy nasal breathing. With each breath, we also receive our natural sinus Nitric oxide. Nasal breathing is maintained even during supine sleep. (See underneath GIF.)
​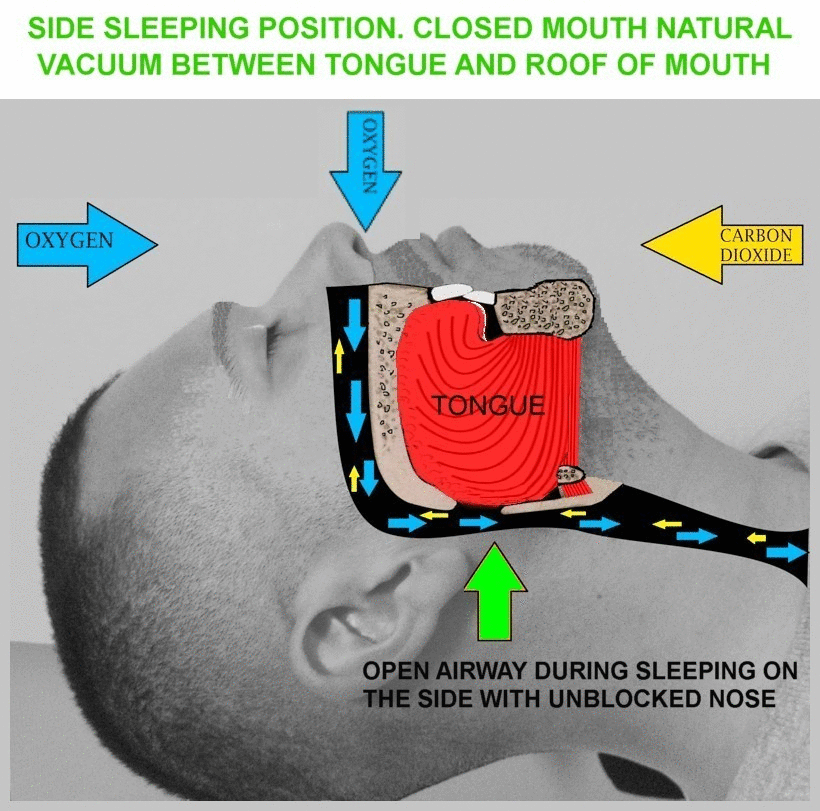 Back sleep: Mouth falls open due to gravity and vacuum is lost. Side sleeping: Mouth is closed with a vacuum between tongue and roof of the mouth remaining, airways are open and OSA is gone.
This combo looks a bit drastic, but once you use it, you will never miss it anymore! The use is Super comfortable and applied in the blink of an eye. Immediately the next morning you feel rejuvenated or reborn, and morning headache-free.
A

90-day

Money back guarantee is covered by PayPal warranty.
More details on LipRight safe mouth tape, click "HERE" In the US only; Ordered before 12 noon, delivery within 48 hours.
Brief history about the CPAP. (Continuous positive airway pressure)
Initially, CPAP was patented in 1974 as a "Pediatric respirator" mostly for CSA (Central Sleep Apnea), the prevalence of which is only 0.4%. (less than 1%)
CSA is a serious disorder because (simply explained) the connection Brain <> and the respiratory System is working incorrectly. OSA, on the other hand, is a physical problem that usually involves a partially blocked nasal/cavity environment in conjunction with the nasal cycle. In 1998, the first CPAPs were marketed as a new cash cow, for OSA, (Sleep apnea) while more attention to simple solutions could solve the problem and correct it in most cases. Millions of CPAPs have now been sold, of which millions have ended up in the corner due to discomfort in use. The disadvantages/side effects are many and is an unpopular device. You can reverse it 100% Naturally with correct breathing with the NSA Combo.
​Reference:
​​
Quote: Mouth-taping could be an alternative treatment in patients with mild OSA before turning to CPAP therapy or surgical intervention.
(Sleep apnea is HIGHLY linked to Alzheimer's disease. Source: healthline.com/health-news)
​